The Flex83 AEP Gives You A Continuum of
Choice
Flexibility
Options
Scale
Support
Acceleration of Application Creation, Solution Validation & Ease of Reliable / Secure Deployment – This is a Core Value of the IoT83 Application Enablement Platform!
Easily Connect to diverse devices, data-flows, databases or even other applications & systems with the Connection Manager!
1 of 7
Transform, normalize, and operate on incoming data with the powerful & intuitive ETL Tools!
2 of 7
Multiple built-in analytics tools help you create data-driven insights for anomaly detection, fault avoidance & preventative maintenance!
3 of 7
You are always inherently ready to launch & scale running on the IoT83 proven & scalable elastic core!
4 of 7
The Flex83 Code Engine helps you add custom intelligence to any IoT solution – using no-code / click-to-configure tools or low-code workflows with 6+ coding languages!
5 of 7
Quickly arrange, configure & launch powerful multi-role / multi-tenant / multi-function IoT applications!
6 of 7
Use pre-build professional dashboards or use the integrated dashboard creation tools for custom visualizations and user interaction!
7 of 7
... Connect "Anything to Anything"

... Build New IoT Concepts

... Prototype & Validate Your Solution

... Scale Reliably at Your Own Pace

... Enhance & Expand Your Solutions

... Assure Your Project's Success
IoT83 Innovation - the Key Difference in the Power of Our Solution
Integrating simple but powerful tools that harness underlying Big-Data and Analytics engines in such a way that provides access to power but hiding complexity is a special skill at Iot83.
IoT83's innovative "Dynamic ETL" combined with the power of the "Code Engine" facilities provided in the platform are examples of powerful innovations available in no other IoT AEP alternatives.
Flex83 Provides a Low / No Code Path to Build Powerful IoT Solutions
Each Application Creation Studio provides powerful tools to construct key elements of your IoT and Digital Transformation solution. From device & flow connectivity, to dynamic ETLs, to custom analytics, to dashboard creation, to the construction of the application itself – all streamlined!
The Connection Manager provides multiple connector types to enable secure data access to not only IoT "things", but also to external databases, existing applications and APIs, middleware applications, web-applications, or even to simple network files.
The Data Studio provides no-code, no-code, or custom-code tools to ingest, transform, normalize, and persist data from multiple sources. Data can be stored into a choice of databases, including Hadoop, Mongo, Cassandra, Elastic and SQL.​
The Code Engine provides multiple tools for creating application custom business logic, automation rules, algorithms, and workflows. Build simple or sophisticated application logic and create APIs to the IoT application for internal or external use.
The Insights Studio provides tools and workflows for implementing ML & AI experiments, and then integrating the results from those experiments back into application logic. Use either IoT83 tools or push data to AWS or Azure for analysis.
The Dashboard Studio makes creation of rich end-user dashboard, reports and navigations easy with a drag and drop page builder, a rich set of graphic libraries, and the ability to build specialized or custom applications using the "Widget Builder".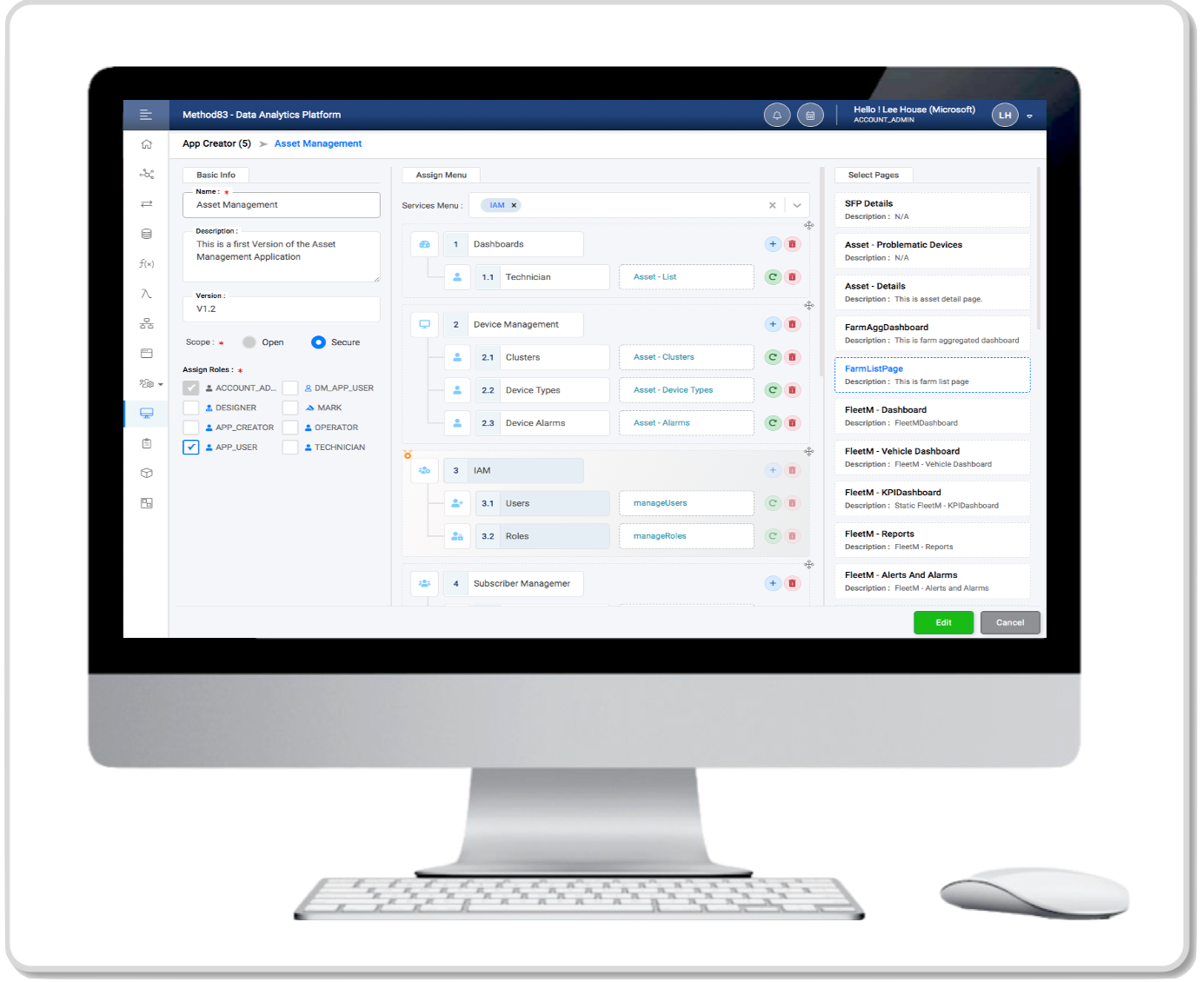 Application Studio provides the tools to create multiple tenant and role-based applications by building application menus and dropping pages into the menu structure. Configure app's navigation and role permissions, and launch the application.
The Application Enablement Platform Is a Proven Turn-Key Solution
Built from carefully curated open source software the IoT83 solution is highly scalable, flexible, and extensible. The No-Code / Low-Code Application Creation Tools multiply your teams capabilities.
IoT83 is proven in applications scaling to over 65M+ devices cost-effectively & securely connected.
IoT83's platform enables fast creation of best-in-class solutions for any business to enjoy the full benefit of IoT.
Million Devices Connected
Millions of Flows Handled
Flow Transactional Rate (M/min)
TTM Acceleration (Months)
Years of Experience (Yrs)